I have been madly seeking inspiration for bathrooms and laundries as we are about to sign contracts with a builder to start our home renovations. You can follow my Pinterest boards here. After 10 years of living in this old house, it will be good to have the work all finished. I am dreaming of having more than one tiny bathroom and also having a proper laundry that I don't have to pull out the vacuum cleaner, the ironing, the dirty clothes, the bike pump etc just to put a load of washing on. First world problems, I know, but I'm designing a big laundry/utility room in the new part of the house and I just know that I'm going to love doing the laundry!
I was chatting to a friend on the weekend over dinner and we were laughing about what we want in a house these days, now we are in our mid-40's. We're so boring, it's laughable - good storage, a good laundry and a good pantry! But seriously these are the things that make life easier, aren't they.
Here are some images that are my inspiration for our new laundry and bathroom/ensuite.
I want lots of cabinetry and storage, a folding area and a ceramic sink. I will definitely be using a single bowl Ikea ceramic sink in the laundry. I still love the double bowl one in my kitchen.
Upstairs, we are planning a small bathroom for the children to share and an ensuite for ourselves. I have never been a fan of ensuites, but as the kids get older, I can see that I won't want to be sharing a bathroom with them - we have a girl who takes a long time in the bathroom getting ready and a messy boy. Our ensuite will be small and narrow so below are photos for my inspiration.
I would want a different vanity to this as I will use an old cabinet or sideboard but this layout from the Block TV Show is similar to what we will need. I love the use of the glass shower screen.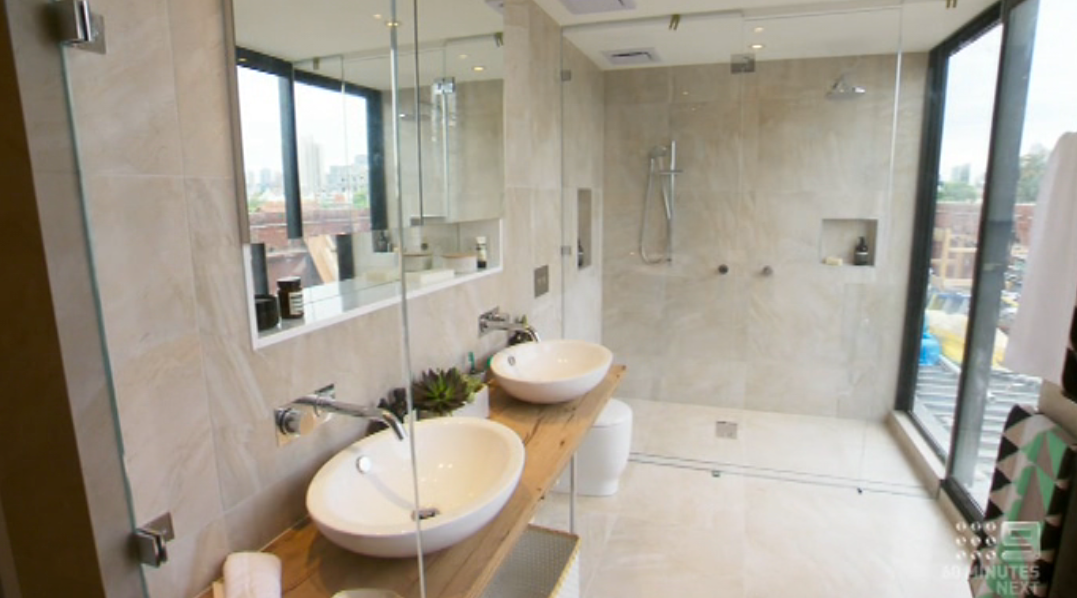 I love A-M's style and her beautiful custom built vanity is so elegant. I wouldn't mind seeing in to the ensuite if this was what I was looking at. I dread lying in bed and looking at the toilet. That's the main reason I'm not keen on an ensuite. A-M's clever design works around that.
We don't nearly have this space below but I love the vanities in this bathroom and these windows are beautiful. So much architectural detail.
I don't even think we will have twin basins as we don't often use the bathroom at the same time and I would prefer extra bench space but
I do love these matching Venetian mirrors also. Very glam indeed.
Another beautiful vanity that looks like furniture below.
What's your laundry and ensuite like? Does anyone have some good inspiration for me or good advice?
I'll be blogging lots about our renovation over the next 6 to 9 months as we plan and build. I look forward to sharing it with you.

While we are talking about renovations, I want to introduce to you a new blog sponsor of Lilyfield Life, The Kitchen Place. Based in Melbourne, they design and build beautiful custom kitchens, bathrooms and laundries in a range of styles. My favourites, of course, are their French Provincial kitchens. See below for some of their recent installations. If you are in Melbourne and are looking at renovating then call for a quote.
There is so much to love in these French Provincial kitchens. The chandeliers and marble benchtops are beautiful and the range hood below in pressed metal is just spectacular.
Have a lovely day - see you on Pinterest!
Fiona xx